Sustainable Partnerships
To succeed with ice hockey, we require three elements.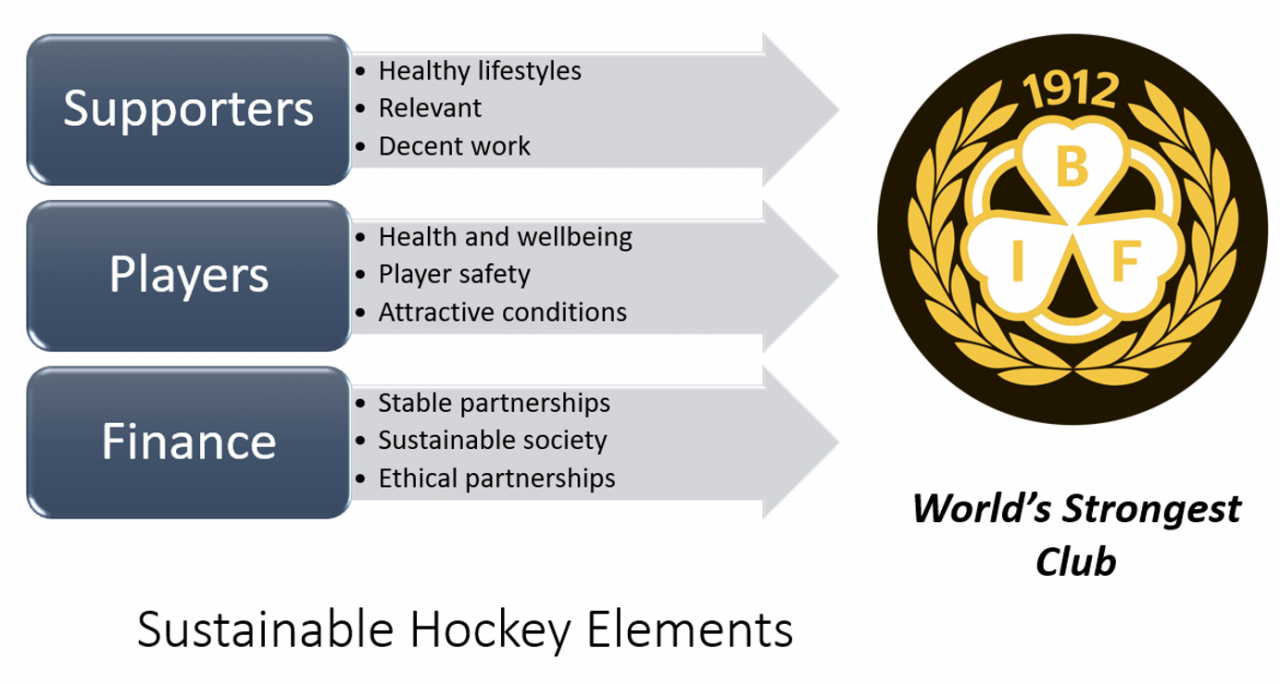 Through our actions we can strengthen all three of these elements for the mutual benefit of all our stakeholders using our model as a guide. By encouraging our fans and supporters to lead healthy lifestyles we ensure that they will continue to come to our games and follow our team.
By remaining relevant we appeal to a broader fan base and continue to attract younger generations to our sport. By helping to reduce unemployment in our region and create new job opportunities we ensure our fans have the financial means to come to our games.
It is all connected in some way for all three elements and by working with sustainability we will ensure our long-term survival of our club, sport and planet, there is, after all, no hockey on a dead planet!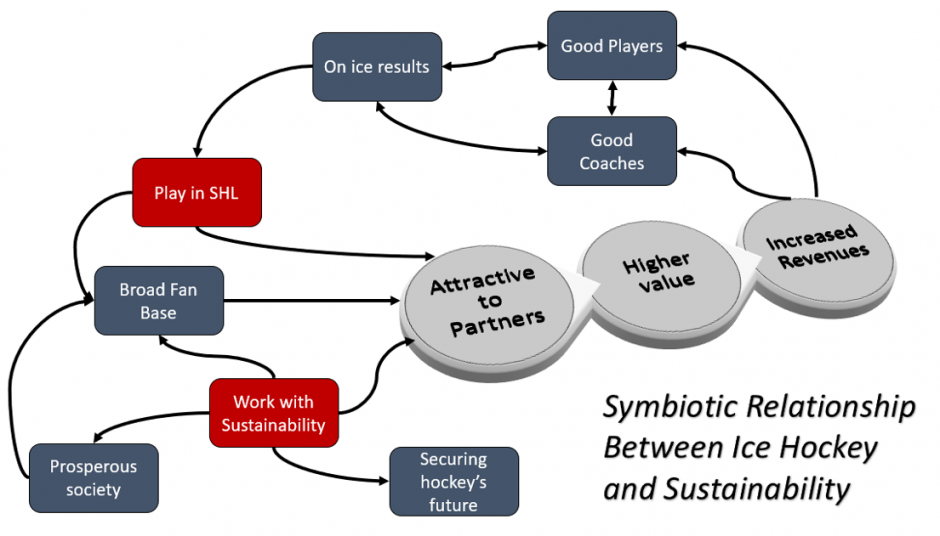 Sustainable partnerships enable us to work in a win-win situation for all parties. Many sponsors now require ethical behaviour from their partner sports and co-sponsor products are also important in terms of the projected images developed through sponsorship. Clubs that cannot adapt to these changes will increasingly risk loss of sponsorship funds whilst those that do adapt will be winners on and off the ice.
Brynäs Power
Brynäs Power was launched in 2020 as a partnership between Official Partner Gävle Energi and Brynäs IF. Fans and supporters are invited to sign up for 100% renewable energy from Gävle Energi in exchange for a financial contribution to the club by Gävle Energi.
Brynäs Power is an example of the new sponsorship platform that we are transforming on to. Brynäs Power is a win for Brynäs, our Official Partner Gävle Energi and the environment, BUT…. it is also a win for our government as it helps them to reach their climate targets, it is a win for our children who get cleaner air to breathe and it is a win for renewable energy (more people buying renewable energy means more investment in renewable energy), and it is a win for all consumers of energy as more investment generally leads to lower long term prices.
WIN WIN WIN WIN WIN WIN!!!
Private Partner
Brynäs IF's large supporter collective throughout Sweden is one of the club's biggest strengths and something completely unique. We have all always felt and experienced this special power, but the club has not succeeded in benefitting from it financially. When Brynäs fans fill Scandinavium in Gothenburg, Hovet in Stockholm, or Saab Arena in Linköping, it is mainly our rivals who win financially.
Private partner was launched in 2020 to give everyone who cannot regularly visit Monitor ERP Arena in Gävle (or who can, and still want to contribute) the opportunity to unleash the power in one direction so that it benefits what our hearts beat for - Brynäs IF, and everything that the club does both on and off the ice. Private partner gives both our most dedicated and our furthest away fans a chance to contribute to both our sports organisation and our sustainability work.