The clean arena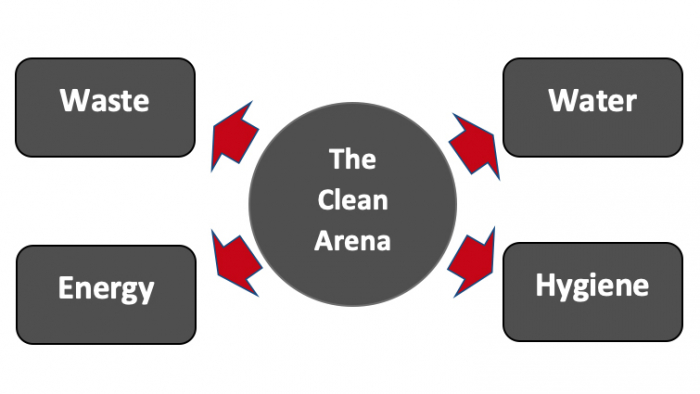 Within our Clean Arena concept, we have four focus areas. We have been working in each of these areas in the past but now have them combined for an overall environmental concept.
Environmental Summary
| | | | |
| --- | --- | --- | --- |
| | 17/18 | 18/19 | 19/20 |
| Heating GWh | 1.15 | 0.86 | 0.90 |
| Electricity GWh | 3.50 | 3.77 | 3.22 |
| Water m3 | 15 000 | 14 880 | 12 337 |
| Emissions (scope 1 and 2) | 0 | 0 | 0 |
| Recycled Waste* t | 40.98 | 41.54 | 56.65 |
| Waste to Energy t | 56 | 48.7 | 20.1 |
*Some additional waste is taken directly to the local recycling station.
Waste
All our waste is recycled or used in waste to energy plants for heating and electricity in our town. In terms of the circular economy, the two main waste streams from our restaurant are circular in nature.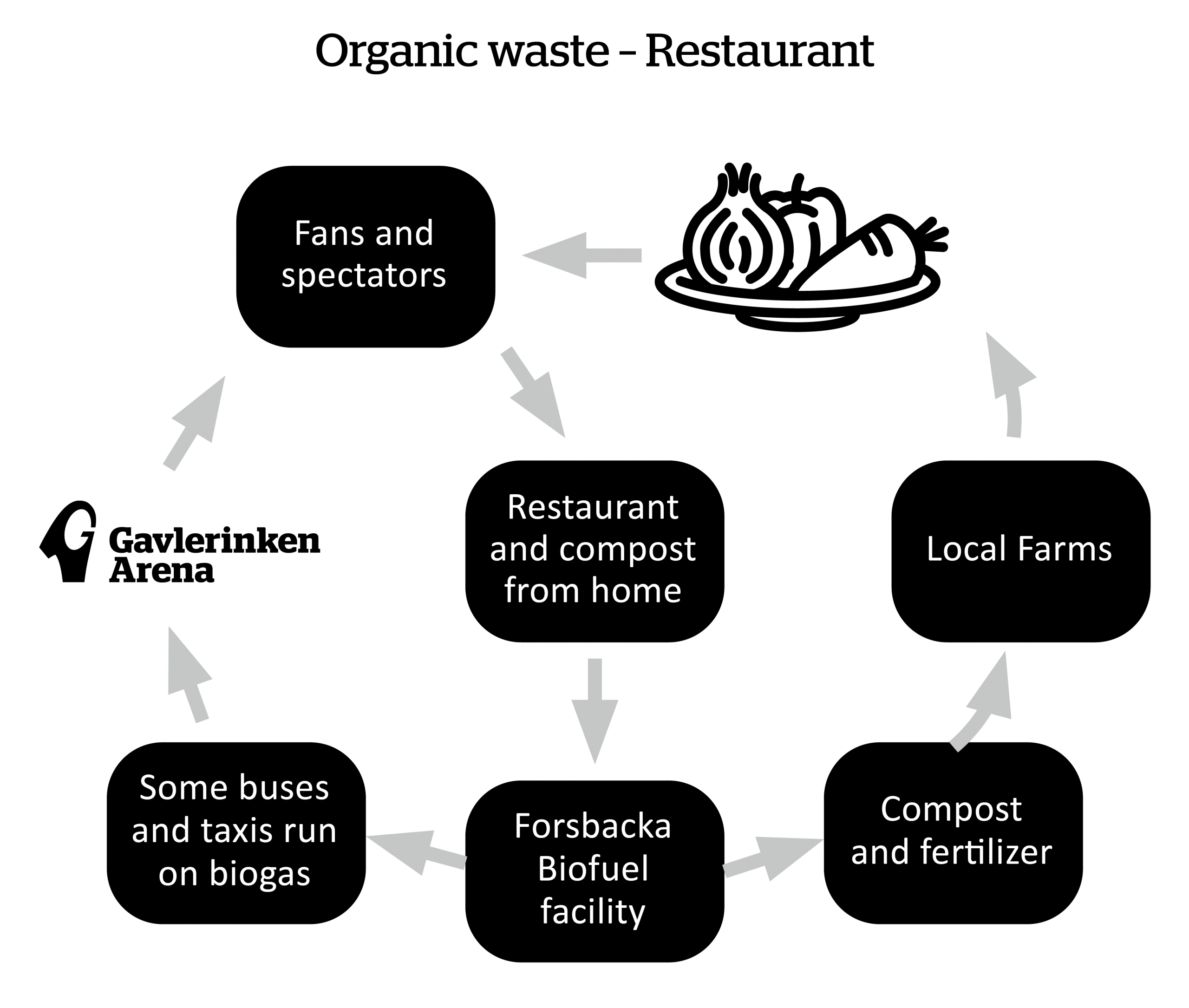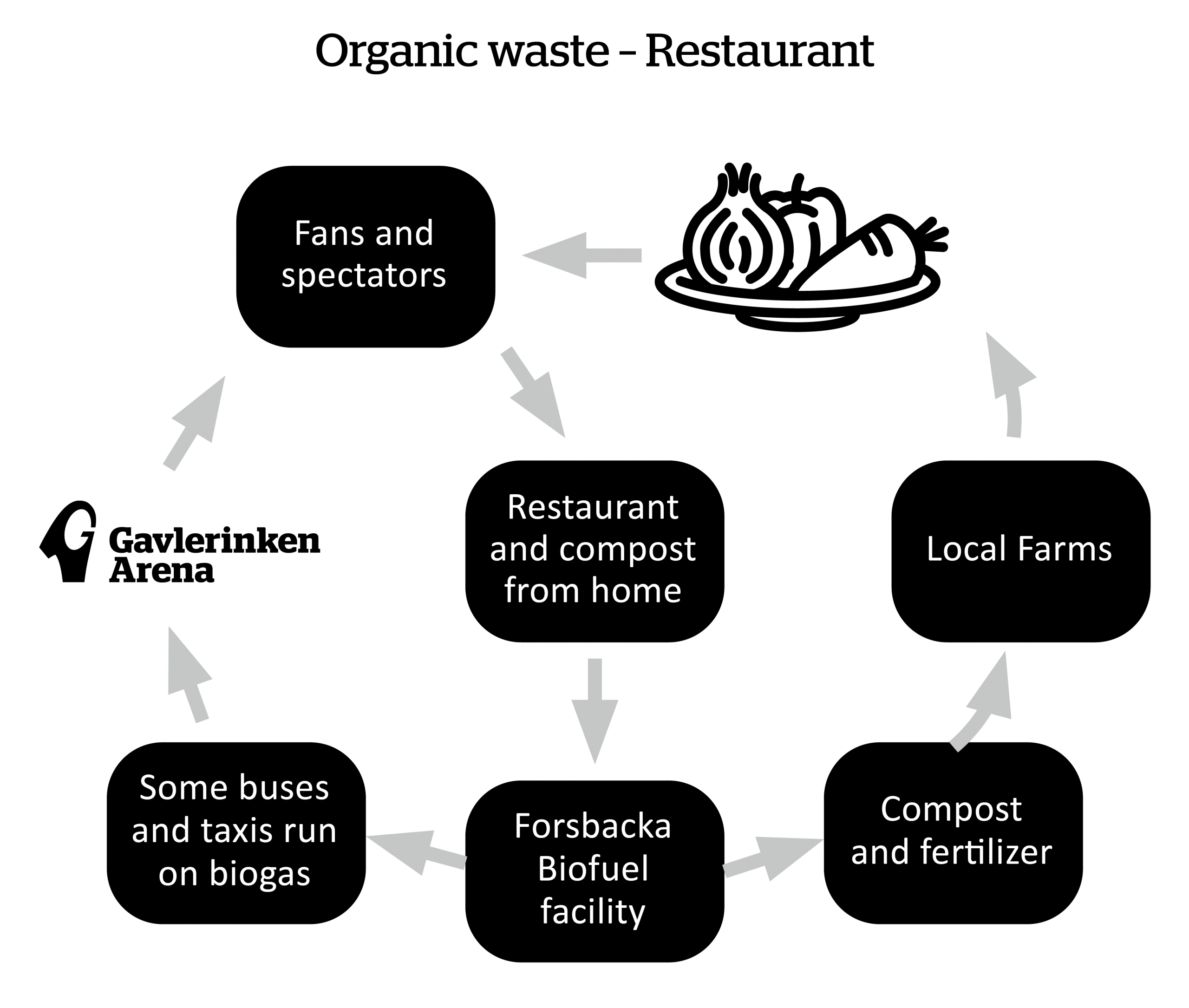 Our waste is sorted into 11 different categories including carton board, office paper, combustibles, glass, compostable, fats and oils, metal, plastic, office electronics, dangerous goods, and mixed household waste.
Energy and water efficient ice system
During the summers of 2019 and 2020 a new ice system was installed in our arena that is both more energy efficient and water efficient. Ice scrapings which were dumped in nearby forest are now melted in an ice pit using a waste heat stream from the refrigeration process. This water is then filtered and used to make new ice. All the pumps on the coolant system now have variable drives giving us flexibility to use the energy we need rather than having to run them on a fixed speed. This ice system saves energy (by using a concentrated waste heat stream previously unavailable) and water but has also removed a large amount of plastic from the environment (unexpectedly we found large amounts of plastic in the melted ice scrapings).
There are many other energy efficiency projects that we have completed or that are underway in our arena.
insulating structures have been installed between our restaurant and the arena and in other areas where separation of cold and warm areas is possible.
there are timers for lights in all our conference rooms
movement sensors are installed for lights in our toilets
energy efficient and ergonomic appliances have been installed in our kitchens when replaced
heating has been converted from electrical to district heating
we maintain a warmer ice temperature overnight when the ice is not in use
a heat exchanger is now used between incoming and outgoing air to reduce heat losses.
lighting in the arena is lowered when the arena is not in use and overnight
mercury containing lights in the arena are being gradually replaced with LED lights.
our arena planning is done at least 1 week ahead so as many systems as possible to only operate when they are needed.
Hygiene
With the advent of the Covid-19 pandemic hygiene has become more important than ever. In addition to our existing hygiene procedures in our restaurant we now have systems in place to protect all our customers visiting the restaurant and our arena.