The Equality Journey
At the beginning of 2018, Brynäs IF decided to make a long-term investment in the women's sports organisation. With our strong position in Swedish ice hockey, we have the potential to be a driving force for equal development of the sport.
Brynäs IF now wants to take the next step in development and has created a long-term initiative called the "Equality Journey", which will be a "tool" to change norms, attitudes and create a strengthened, sustainable and equal economic development within the club.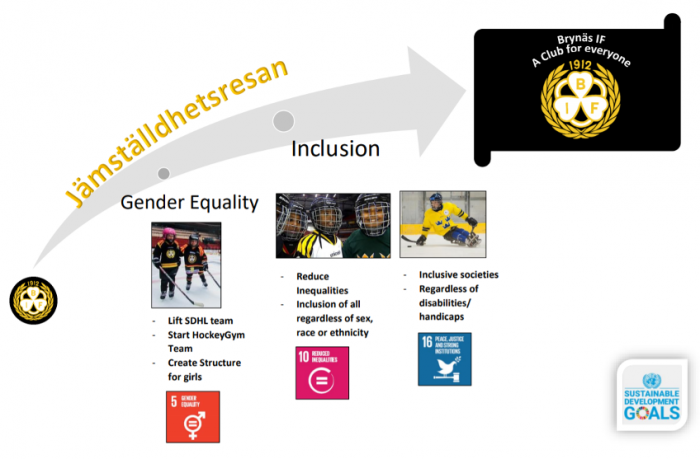 There are three main elements we are focusing on to create an equal sports environment and these are pathways, participation, and investment. We have started our journey with women's sport and will develop a plan for full inclusiveness once we have this part underway.
We have, however, taken some initial small steps to make our club overall more inclusive. Our restaurant is now more inclusive and offers a daily vegetarian dish, allergen information on the website and it is possible to order a takeaway meal for people who cannot eat in the restaurant. The publishing of our sustainability work in English is a first step to providing more information on our website in English and other languages for both tourists and immigrants in our region.
Pathways
As a starting point, pathways for girls need to be developed so they have the same sporting opportunities as boys. Here is our target pathway for girls which we aim to reach by 2021.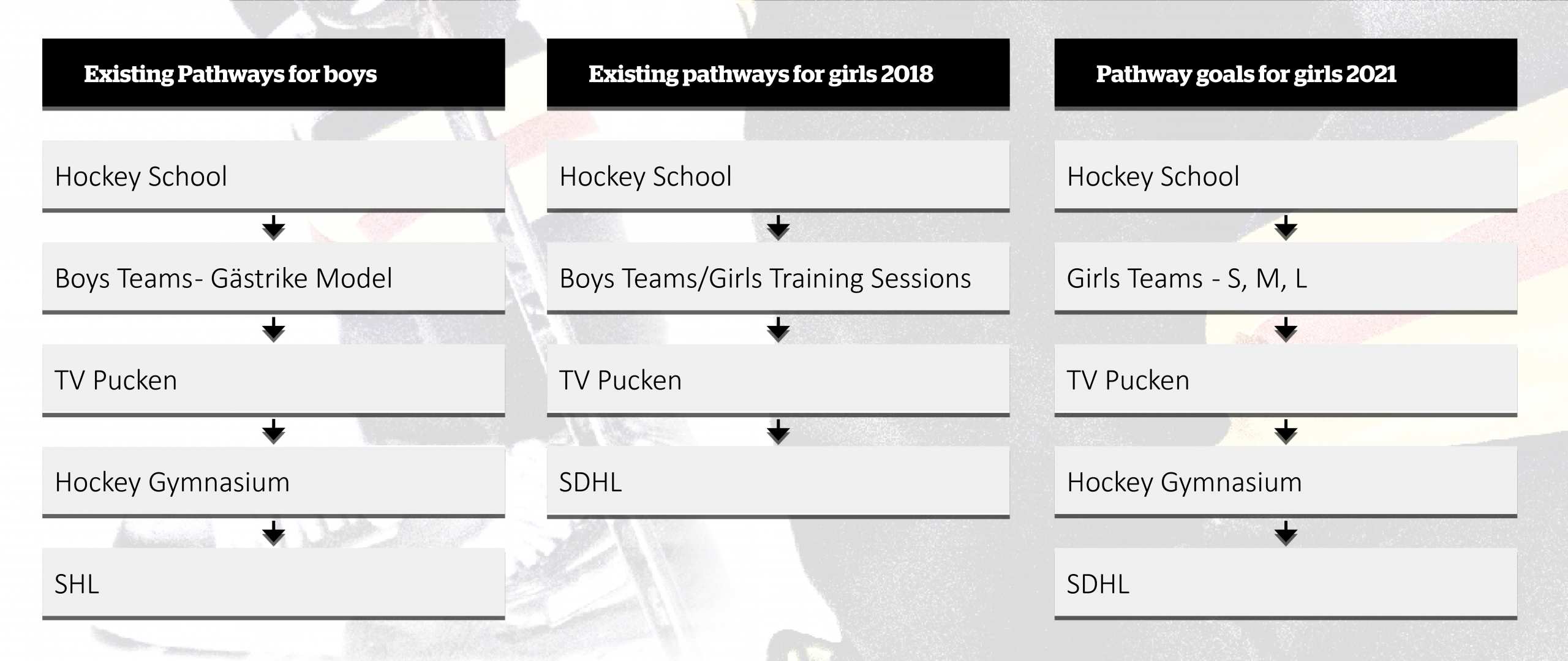 Participation
Commercially viable sports require a critical mass of players that delivers elite level athletes combined with a fan base to follow and watch them.Currently participation levels in girl's and women's hockey are low but we have started up a girl's organisation to change this. Target participation numbers for 2023 from a baseline in 2018 are: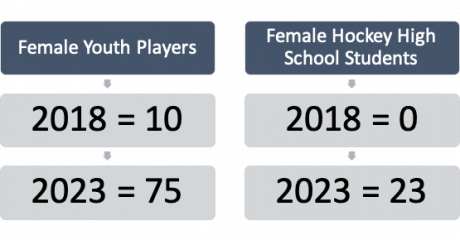 Investment
Much of the financial support for professional players comes from broadcasting and media rights. Here we need help from the entire sports ecosystem to raise the profile of women's sports to attract lucrative broadcasting contracts. Investment in women increases a sports overall profile and in the long term will benefit the commercial outcome for both men's and women's hockey. For our own part we are aiming for equal sponsorship between our women's and men's teams.
In 10 years
Brynäs IF shall be a gender equal and inclusive club, which will be reflected both on the ice and in the stands. The equality journey will have led to a strengthened financial base, a stronger brand, more fans and partners and that all the club's hockey activities are conducted with conditions and in premises with the highest possible standards compared to competing clubs in Sweden and Europe. The work and its results have also made Brynäs IF a national and international role model when it comes to inclusive and gender-equal sports.